The Covid-19 infections are on a rise in India. With 1,26,789 new cases reported today, India hit the highest single-day spike since the outbreak of the pandemic. This is the third day when the country reported more than 1 lakh cases in a single day. With this fresh surge, the total number of infections has reached 1,29,28,574, the Union Health Ministry said. With 685 new Covid-related deaths in the last 24 hours, the toll in the country has mounted to 1,66,862. Currently, there are 9,10,319 active cases in the country. 
To take stock of the Covid-19 surge in the country, PM held a virtual meeting with state chief ministers. Maharashtra CM Uddhav Thackeray and Bihar CM Nitish Kumar attended the meeting.
Ten states including Maharashtra, Chhattisgarh, Karnataka, Uttar Pradesh, Delhi, Madhya Pradesh, Tamil Nadu, Gujarat, Kerala and Punjab have shown a rise in the Covid daily new cases. 84.21% of the new cases are reported from these 10 states. Maharashtra has reported the highest daily new cases at 59,907. It is followed by Chhattisgarh with 10,310 while Karnataka reported 6,976 new cases.
India's Cumulative Vaccination Coverage exceeds 9 crores
As many as 9,01,98,673 people have been vaccinated against COVID-19 in the country so far. In terms of the number of daily doses administered globally, India stands at the top with an average of 34,30,502 doses administered per day. India's daily new cases continue to rise
From April 2, the government started vaccinating all people above 45years. India started its vaccination drive on January 16 with priority given to all healthcare and frontline workers in the first phase. The second phase started on March 1 where doses were administered to people above the age of 60 and those between 45 and 59 years with specific comorbidities.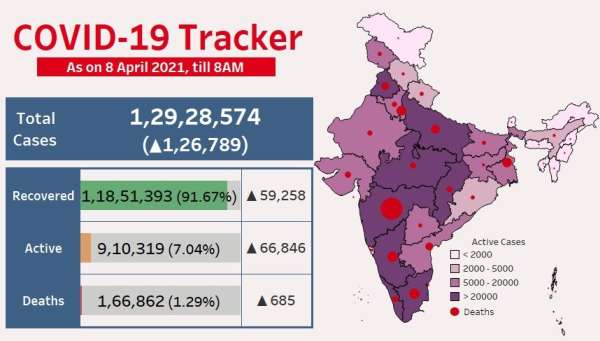 PM Modi takes his second shot Covid-19 vaccine
Prime Minister Narendra Modi today took the second dose of Covaxin at AIIMS Delhi. "Got my second dose of the COVID-19 vaccine at AIIMS today. Vaccination is among the few ways we have, to defeat the virus.
If you are eligible for the vaccine, get your shot soon. Register on Cowin.gov.in," PM Modi shared his picture along with the tweet. He had taken the first shot on 1 March.
Covid vaccination at workplaces from 11 April
The Health Ministry has written to all states and UTs that vaccination sessions may now be organized at workplaces (both public & private) which are having about 100 eligible and willing beneficiaries by tagging these workplaces with an existing Covid Vaccination Center (CVC). Such workplace vaccination centres may be launched across States/UTs from 11 April 2021. States have been further advised to initiate due to consultations with private/public sector employers and management to prepare for the launch of workplace vaccination.