The Central government has dispelled the rumour doing the rounds on social media that the COVAXIN vaccine contains the newborn calf serum. Lashing out at the rumour mongers, the Union Ministry of Health released a statement saying the facts have been twisted and misrepresented in the social media posts. The ministry reiterated that the COVID vaccine made by Hyderabad's Bharat Biotech doesn't contain the serum of newborn calf.
The government, however, clarified that newborn Calf Serum is used only for the preparation of Vero cells. Different kinds of bovine and other animal serum are standard enrichment ingredients used globally for Vero cell growth. Vero cells are used to establish cell lines that help in the production of vaccines. This technique has been used for decades in Polio, Rabies and Influenza vaccines.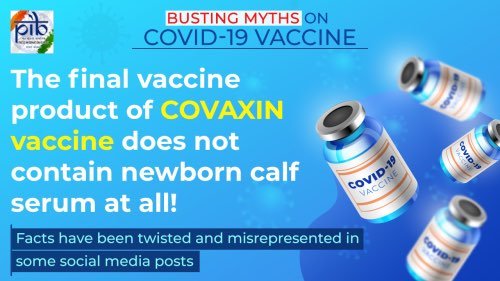 Vero cells washed to clean them of the newborn calf serum
The Health Ministry further explained that after the growth these Vero cells are washed with water and chemicals (also technically known as a buffer) to clean them of the newborn calf serum. Thereafter, these Vero cells are infected with coronavirus for viral growth.
In the statement, it was made clear the Vero cells are completely destroyed in the process of viral growth. Thereafter this grown virus is also killed (inactivated) and purified. This killed virus is then used to make the final vaccine, and in the final vaccine formulation, no calf serum is used.
Thus the government expounded that neither does the vaccine (COVAXIN) contain the serum of newborn calf nor is the serum an ingredient of the final product.
No dissent among experts on COVISHIELD doses: Centre
The Union Health Ministry also rejected some media reports which suggested dissent among the technical experts regarding the decision to increase the gap between two doses of the COVISHIELD vaccine from 6-8 weeks to 12-16 weeks.
It clarified that the decision was based on scientific reason regarding the behaviour of adenovector vaccines and it was discussed thoroughly in meetings of the COVID-19 Working Group and Standing Technical Sub-Committee (STSC) of the National Technical Advisory Group on Immunisation (NTAGI) with no dissent from any member.