India recorded an all-time high of 1,03,558 Covid-19 cases in a day pushing the nationwide coronavirus tally to 1,25,89,067, the Union Health Ministry said today. With 478 new deaths, the death toll in India has gone up to 1,65,101. With this, India has become the third country after the United States and Brazil to register more than 1 lakh Covid cases in a single day.
The 1-lakh mark breach was recorded a day after Prime Minister Narendra Modi chaired a review meeting and directed senior officials to send teams comprising public health experts and clinicians to Maharashtra, Punjab and Chhattisgarh.
According to the Union Health Ministry, the surge in Covid-19 cases is led by a massive spike in the pandemic in Maharashtra, which added a record 57,074 fresh infections. Delhi logged 4,033 new COVID-19 cases on Sunday. Besides Delhi and Maharashtra, Uttar Pradesh (4,164 cases), Madhya Pradesh (3,178 cases) and Gujarat (2,875) also recorded their highest-daily surge in infections.
Implement a five-fold strategy to curb the spread: PM Modi
Prime Minister Modi on Sunday had said that the five-fold strategy of Testing, Tracing, Treatment, COVID-appropriate behaviour and vaccination if implemented with seriousness and commitment, would be effective in curbing the spread of the pandemic.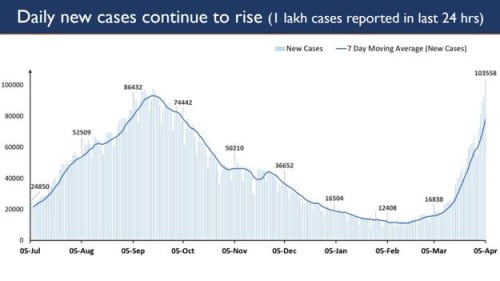 From 20, 000 to 1 lakh Covid cases in 25 days
The single-day rise in cases overshadowed the earlier peak of 97,894 infections reported on 17 September 2020. The daily rise in COVID-19 cases in India crossed the grim milestone of one lakh from 20,000 infections in just 25 days. The daily rise in cases fell below 30,000 since December 14 (27,071) and the lowest daily increase of 8,635 infections was reported on February 2 this year.
More than 7 lakh active cases in India
Registering a steady increase for the 26th day in a row, the active cases have increased to 7,41,830 comprising 5.89 per cent of the total infections.
Meanwhile, according to the Ministry of Health and Family Welfare, a total of 7,91,05,163 people have been vaccinated across the country till now. From April 2, the government started vaccinating all people above 45 years. India started its vaccination drive on January 16 with priority given to all healthcare and frontline workers in the first phase. The second phase started on March 1 where doses were administered to people above the age of 60 and those between 45 and 59 years with specific comorbidities.