Amid the confusion over social media, the central government has clarified that the CoWin portal will be ready for 18+ citizens by 24 April, but the registrations to book appointments for the vaccination starting 1 May will begin only from 28 April 2021.
In phase 3 of the vaccination drive, the government aims at liberalized vaccine pricing and scaling up vaccine coverage from 1 May 2021. The Centre has made it clear that the division of vaccine supply (50% to Govt. of India and 50% to other than Govt. of India channel) would be applicable uniformly across for all vaccines manufactured in the country. The government of India, from its share, will allocate vaccines to States/UTs based on the criteria of performance and extent of infection.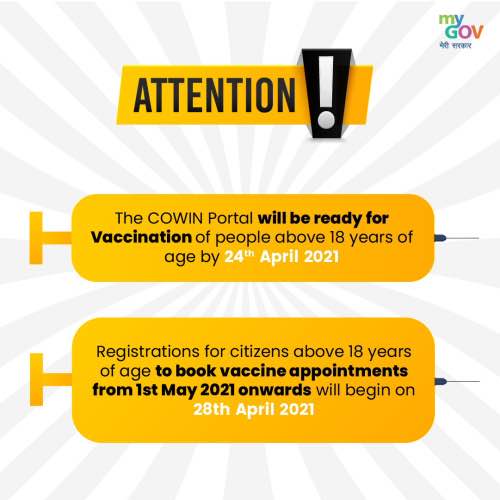 States free to procure COVID vaccines manufacturers
There have been some reports suggesting that Serum Institute of India (SII) has contracted all its production till 25 May 2021 to the Centre and therefore the state governments will not be able to procure vaccines from the manufacturer till that date. The central government has clarified that the reports are based on incorrect facts and are without any basis.
PM holds high-level meeting on oxygen availability
Prime Minister Narendra Modi held a high-level meeting today to review the situation related to Medical Oxygen supply and ways to boost the availability of Oxygen. The officials briefed him on the efforts undertaken in the last few weeks to improve the supply of oxygen.
The Prime Minister asserted the need to work rapidly on increasing the production of oxygen, increasing the speed of distribution, and using innovative ways to provide oxygen support to health facilities.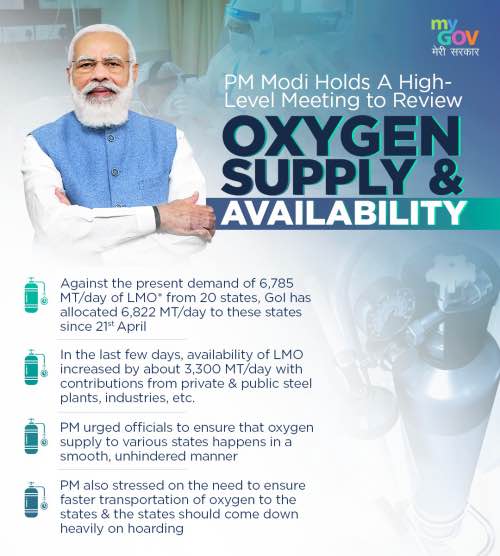 PM Modi was assured that an elaborate exercise is being undertaken in coordination with the states to identify their demand for oxygen and ensure adequate supply. He was briefed that against the present demand from 20 states of 6,785 MT/ day of Liquid Medical Oxygen, the Centre has allocated 6,822 MT/ day to these states from 21st April.
In the last few days, availability of Liquid Medical Oxygen has been increased by about 3,300 MT/day with contributions from private and public steel plants, industries, oxygen manufacturers as well as through prohibition of supply of oxygen for non-essential industries.
In the meeting attended by Cabinet Secretary, Principal Secretary to PM, Home Secretary, Health Secretary & Officials from Ministry of Commerce & Industry, Ministry of Road Transport, Pharmaceuticals and NiTi Aayog, the officials informed the Prime Minister that they are working together with the states to operationalize the sanctioned PSA oxygen plants as soon as possible.
PM Modi emphasized the need to ensure faster transportation of oxygen to the states, and it was discussed that trains are being used for rapid and non-stop long-distance transport of tankers. The Prime Minister also stressed that the states should come down heavily on hoarding.