Amid a spike in Covid-19 cases in Maharashtra, Chief Minister Uddhav Thackeray on Sunday informed that the coming eight days will decide whether there will be a lockdown in the state. In a video address, Thackeray said, "Do you want lockdown? The next eight days will decide. Maharashtra has reported around 7,000 COVID cases today. If the COVID-19 situation deteriorates, we have to impose lockdown. Those who want a lockdown can roam around without mask while those who do not want it must wear a mask and follow all the rules."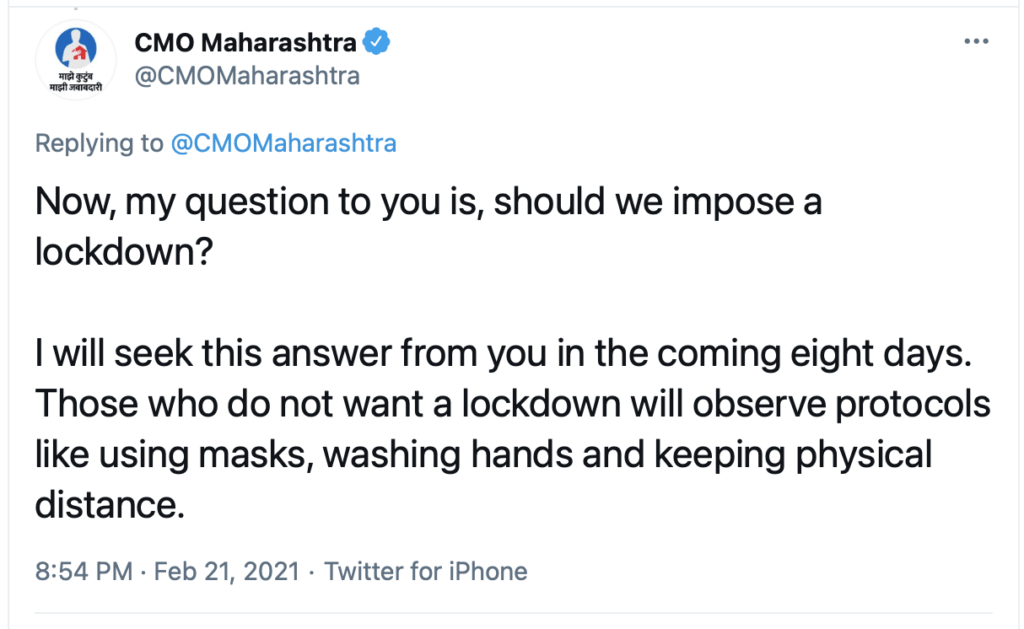 The chief minister introduced a new slogan "I am responsible" adding to the government's ongoing campaign against COVID-19 "my family, my responsibility".
"The new slogan 'I am responsible' conveys that people must be responsible for themselves. People must make sure that they are wearing a mask, keeping social distancing and washing their hands," he said.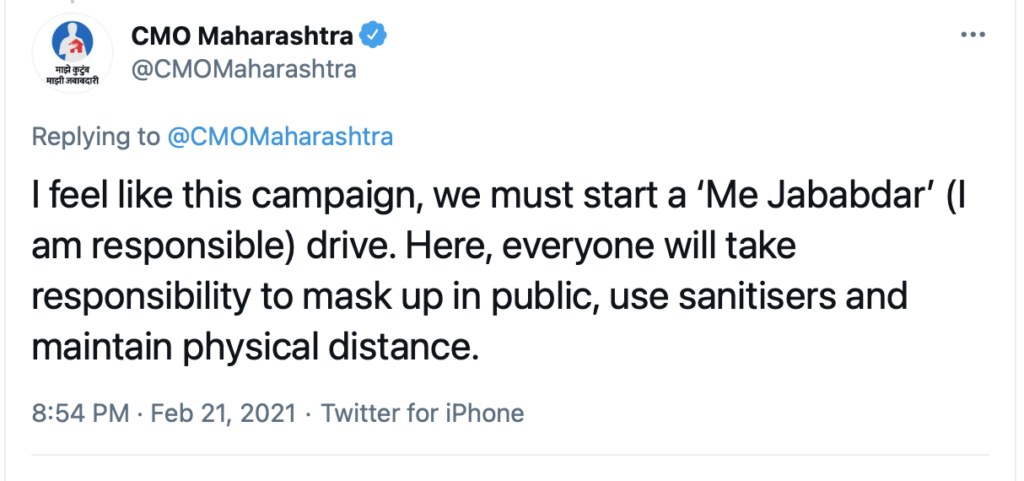 Uddhav Thackeray said that he has directed the district administrations across the state to impose necessary restrictions where necessary.
Amravati district under week-long lockdown
Meanwhile, the state govt has imposed a week-long strict lockdown in the Amravati District. A curfew will be in place in Amravati Municipal Corporation and Achalpur Municipal Council limits till 6 am on 1 March starting at 8 pm today. During the curfew, however, shops of essential commodities will remain open from 8 am to 3 pm.
Night curfew in Nashik from today
The government authorities have decided to enforce night curfew in Nashik between 11 pm and 5 am from today.
Preventive curbs in place in Nagpur
As per reports in the media, schools, colleges and coaching classes will remain closed in Nagpur city till 7 March, while marriage halls will also remain shut between 25 February to 7 March.
Night curfew imposed in Pune district
From 11 pm to 6 am no public movement will be allowed in the district except those involved in essential activities. All schools and colleges in the Pune district will remain closed till 28 February.
Lockdown continues in Yavatmal district
After the Yavatmal district administration order, the lockdown imposed on 18 February will continue for 10 days. Schools (class 5-9), colleges and coaching classes will remain shut till 28 February.
New guidelines issued for Mumbai
In view of a spurt in coronavirus cases in Maharashtra, the Brihanmumbai Municipal Corporation (BMC) has issued fresh Covid-19 guidelines in Mumbai amid a rise in cases.
Chief Minister Uddhav Thackeray on Sunday said in view of the rising COVID-19 cases, religious, social and political gatherings will be prohibited in the state from Monday.
Maharashtra Covid-19 tally update
Maharashtra reported 6,971 new Covid-19 cases and 35 deaths in the last 24 hours. According to the state health department, the total number of Covid cases in Maharashtra has reached 21,00,884. The death toll in the state has risen to 51,788. The number of active cases in Maharashtra stands at 52,956.