Tesla has now an Indian address. American electric car maker Tesla has registered its Indian arm in Karnataka's Bengaluru. According to a regulatory filing, the firm has registered Tesla India Motors and Energy Pvt Ltd with RoC Bangalore. Bangalore is widely regarded as the 'Silicon Valley of India'.
Tesla has also registered its office in Lavelle Road, with paid-up capital of Rs 1 lakh and authorised capital of Rs 15 lakh, according to the filing. The Registrar of Companies (RoC) filing shows the Indian unit has three directors – Vaibhav Taneja, Venkatrangam Sreeram and David Jon Feinstein.
The carmaker has set up an R&D unit in Bengaluru, the chief minister confirmed on Twitter. Mr Yediyurappa tweeted: "Karnataka will lead India's journey towards Green Mobility. Electric Vehicle Manufacturer Tesla will soon start its operations in India with an R&D unit in Bengaluru. I welcome Elon Musk to India and Karnataka and wish him all the very best."
Tesla is also in touch with other state governments like Maharashtra, Gujarat, Tamil Nadu and Andhra Pradesh to start its India operations.
Earlier, the Maharashtra government had said it is looking for potential investment from Tesla in the state and has held discussions with the company.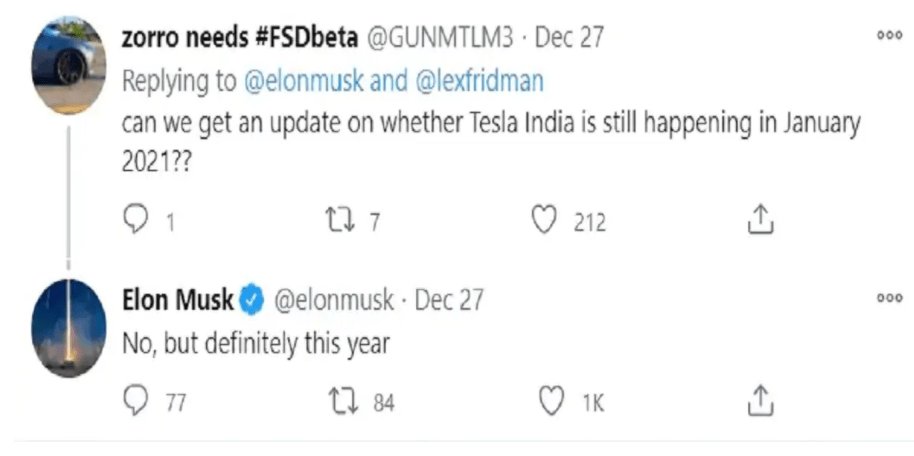 According to some auto website, Tesla is expected to launch 5 cars between 2021-2022 in India. The car price will be ranging from Rs 60 lakh to Rs 2 crore. Tesla Model 3 will be the cheapest and the first model to be launched. The booking for the same may start very soon.
Last month, Union Minister Nitin Gadkari had said Tesla is set to start its operations in the country in 2021 and would also look at setting up a manufacturing unit based on demand.
In November last year, replying to a Twitter user who asked about the progress of the company's India plans, Tesla CEO Elon Musk had said, "Yea..Next year for sure".
Musk had, however, in the past too tweeted about Tesla's entry into India.
In 2019, replying to a Twitter query, Musk had said he "would love to be there this year. If not, definitely next!"
Tesla's likely entry into India comes at a time when the government is encouraging higher adoption of electric vehicles to tackle climate change.
Tesla had planned its India entry in 2016 but the company never went ahead with its operations post the announcement apparently due to the changing import policies and dismal infrastructure for electric vehicles.
Tesla, Inc. is an American electric vehicle and clean energy company based in Palo Alto, California. Tesla's current products include electric cars, battery energy storage from home to grid-scale, solar panels and solar roof tiles, as well as other related products and services.
Founded in July 2003 as Tesla Motors, the company's name is a tribute to inventor and electrical engineer Nikola Tesla. Elon Musk has served as CEO since 2008. Tesla ranked as the world's best-selling plug-in and battery electric passenger car manufacturer in 2019. In 2020, the company surpassed the 1 million mark of electric cars produced. The Model 3 ranks as the world's all-time best-selling plug-in electric car, with more than 500,000 delivered.
Elon Musk overtook Amazon founder Jeff Bezos as the world`s richest man with a whopping $195 billion net worth last week.