Coming 1 April, all people above 45 years of age will be eligible for Covid-19 vaccination in India, the government has announced today. So, now even people without comorbidities who are more than 45 years of age can take the jabs. The decision was taken at a cabinet meeting chaired by Prime Minister Narendra Modi. At present, only citizens who are above 60 and those over 45 with other illnesses are allowed to get the vaccination.
Addressing a press conference, Union Minister of Information and Broadcasting Prakash Javadekar said, "It has been decided that from 1st April, the vaccine will open for everybody above 45 years of age. We request that all eligible should immediately register and get vaccinated."
He further added that as per the advice by scientists and world scientist bodies, the second dose vaccines can be administered between the fourth and eighth week, particularly for Covishield.
The Minister also appealed to the people that all above the age of 45 years should take the vaccine as early as possible.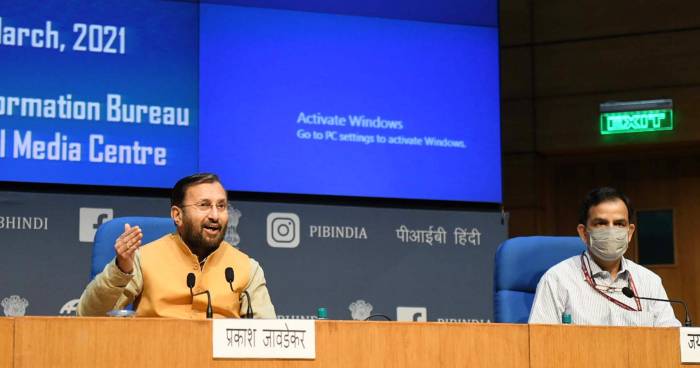 The Central government on Monday had said that the gap between the first and second doses of the AstraZeneca-Oxford University's Covishield vaccine should be increased to 6-8 weeks from the current 4-6 weeks.
More than 32.53 lakh COVID-19 vaccine doses were administered on Monday, the highest single-day vaccination so far, taking the total number of people inoculated to over 4.8 crore, the Union Health Ministry said on Tuesday.
The countrywide vaccination drive was rolled out on January 16 with healthcare workers getting inoculated. The next phase of COVID-19 vaccination commenced on March 1 for those who are over 60 years of age and for people aged 45 and above with specified co-morbid conditions.
India has seen a spike in coronavirus cases over the past few weeks. 40,715 new coronavirus cases were registered today, taking the nationwide infection tally to 1,16,86,796, while the active caseload at 3,45,377 registered an increase for the 13th day in a row, the Union health ministry said on Tuesday.
The active caseload now comprises 2.96 per cent of the total infections, while the recovery rate has further dropped to 95.67 per cent, the ministry data updated at 8 am stated.
The COVID-19 death toll of the country increased to 1,60,166, with 199 daily new fatalities, it said.