The State Bank of India (SBI) has said there won't be any service charges on Immediate Payment Service (IMPS) transactions up to Rs 5 lakh done through internet banking and mobile banking, including the YONO app. In addition, a new slab for Rs 2 lakh to Rs 5 lakh has been introduced with service charges of Rs 20 + GST, starting 1 February 2022. The service charges on IMPS are in line with the service charges on NEFT/RTGS transactions, SBI said.
Under IMPS, there's no service charge on transaction amounts up to Rs 1,000. From Rs 1,001 to Rs10,000, a charge of Rs 2 plus GST is applicable, transaction of Rs10,001 to Rs 1 lakh attracts Rs 4 plus GST fees and for amounts above Rs 1 lakh up to Rs 2 lakh, Rs 12 plus GST is applied. These charges apply to only transactions carried through branch channels.

IMPS provides robust and real-time fund transfer which offers an instant, 24X7, interbank electronic fund transfer service that could be accessed on multiple channels like Mobile, Internet, ATM, SMS. IMPS is an emphatic service that allow transferring of funds instantly within banks across India which is not only safe but also economical.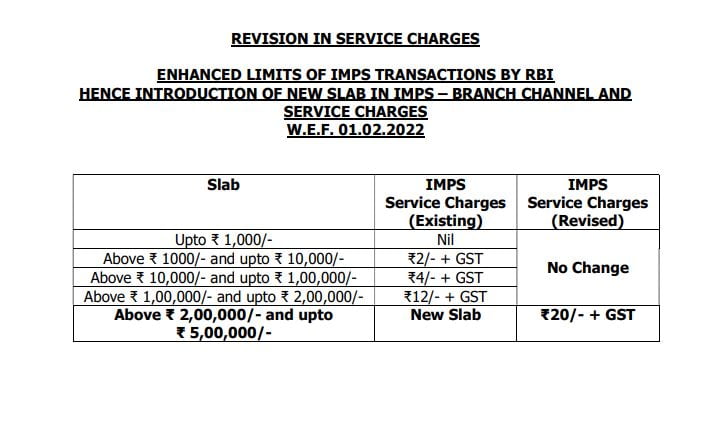 Objectives of IMPS
1)To enable bank customers to use mobile instruments as a channel for accessing their banks' accounts and remit funds.
2)Making payment simpler just with the mobile number of the beneficiary.

3)To sub-serve the goal of the Reserve Bank of India (RBI) in the electronification of retail payments.

4)To build the foundation for a full range of mobile-based Banking services.
Under the SBI's NEFT slabs, transactions up to Rs 10,000 attract ₹2 plus GST as a service charge, if you do it at any bank branch. The transactions from ₹10,000 up to ₹1 lakh attract ₹4 + GST, while transactions between ₹1 lakh and ₹2 lakh attract ₹12 + GST as service charge if it happens at any bank branch. For transactions over ₹2 lakh, customers have to pay ₹20 plus GST. However, those doing NEFT transactions via net banking or mobile banking or YONO don't have to pay anything.
In the case of RTGS, transactions between ₹2 lakh and ₹5 lakh attract ₹20 plus GST, while that above ₹ 5 lakh attracts ₹40 + GST. Customers doing RTGS transactions via net banking or mobile banking or YONO don't have to pay the service charges.
State Bank of India is the largest commercial bank in terms of assets, deposits, branches, customers, and employees. As of September 30, 2021, the bank has a deposit base of over Rs. 38 lakh crore with a CASA ratio of 46.24% and advances of more than Rs. 27 lakh crore. SBI has the largest network of 22,230 branches and 64,122 ATMs / CDMs in India with 70,786 BC outlets. The number of customers using internet banking and mobile banking stands at 94.4 million and close to 21 million respectively.