In today's world life without WhatsApp is simply unimaginable. Be it, teen, young or old everyone has the app on their smartphone and are busy chatting with their groups. WhatsApp has become a household name. The instant messaging app is used for personal as well as professional purposes. The Facebook-owned messaging app has updated its privacy policy which will affect over 400 million users in India. WhatsApp has issued a 'warning' for its users in order to carry on using the app, they will have to accept the changes otherwise it will stop working on their phones. The updated terms of service will be effective from 8 February 2021. In a notification, WhatsApp has informed Android and iPhone users of the change through an app notice that they would have to accept the changes to continue using the app. It also suggested visiting the 'Help Centre' if users wanted to delete their account.
The most notable changes in both the updated privacy policy and terms of service are around how WhatsApp shares information with Facebook and its subsidiaries. Aside from changes in how the app handles and collects user data, there are new sections like Transactions, Payments Data and Location Information.
WhatsApp key updates include more information about:
WhatsApp service and how it processes your data.
How businesses can use Facebook hosted services to store and manage their WhatsApp chats.
How it partners with Facebook to offer integration across the Facebook Company Products.
In the past, Facebook CEO Mark Zuckerberg had indicated towards an interoperable system where WhatsApp, Instagram and Messenger can be used interchangeably.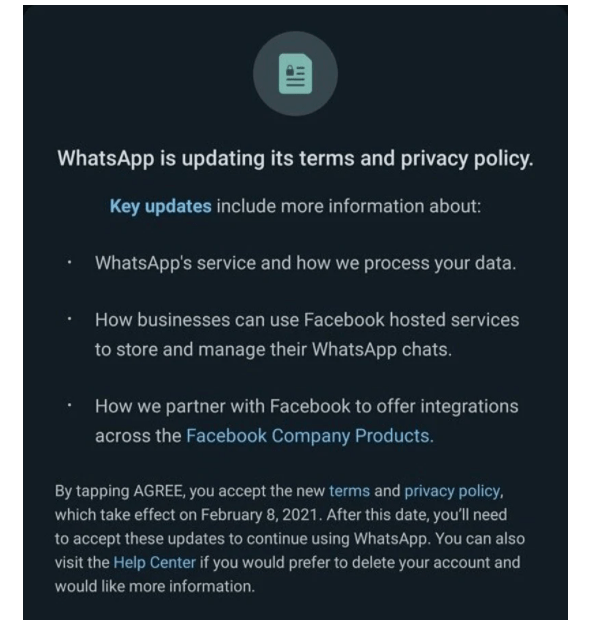 In its privacy policy, WhatsApp said it works with third-party service providers and other Facebook companies to help it operate, provide, improve, understand, customise, support and market its services. The last time WhatsApp updated its privacy policy globally was in 2016.
How WhatsApp will change once the new privacy policy comes into force
Users will be required to provide additional information if they want to use a particular service. "Our services have optional features which, if used by you, require us to collect additional information to provide such features. You will be notified of such a collection, as appropriate. If you choose not to provide the information needed to use a feature, you will be unable to use the feature," WhatsApp published on its website.
"For example, you cannot share your location with your contacts if you do not permit us to collect your location data from your device. Permissions can be managed through your Settings menu on both Android and iOS devices," it added.
WhatsApp also asserted that it offers end-to-end encryption for its services, which protects the messages from being read by WhatsApp and third parties.